This was an article that was published in Hindu Metroplus Melange on the 28th of November 2015. Somehow, never found the time to post it here because of the floods that subsequently took up about a fortnight before we could start settling back into our normal lives. So, here's the post that I am reproducing from the article without modification. Hope you like it.

Indulging in DIY gives you the freedom to think out of the box, plan and execute an outcome out of run of the mill materials that are meant to have completely different purposes. This lampshade is one such item that is built using garden meshes that are quite the common sight along the sides of roads. Not only is the cost of materials required inexpensive, but the end result is something that will give a refreshing look to the otherwise drab mesh. Here's how you too can make this lampshade.
Materials required
Garden Mesh from the hardware store (Rs.12  Sq ft)
A red cotton fabric (About half meter)
A tracing sheet from the craft store (Get the A2 or A1 sizes)
Some glue, a needle and a thread
A pair of scissors
Step 1
Cut the garden mesh to your required size (I used 18 x 15 inches) using a pair of scissors or pliers. The mesh would be used as the frame for your lampshade.
Step 2
Paint the mesh white using acrylic color. You may want to apply a primer base for better absorption of the paint. While painting is only optional, it enables you to hide the ordinary green look of the mesh with a more classy and elegant finish.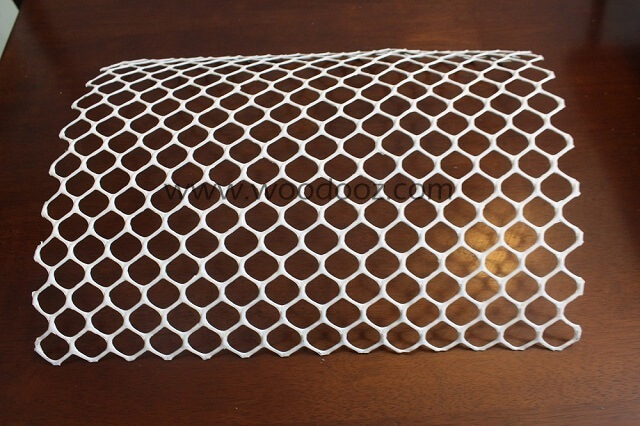 Step 3
Apply glue across the corners of the mesh and stick the red fabric on to it. Feel free to use any fabric color of your choice. Shades of red and orange will look brilliant in warm yellow light while the blues and greens will go well with white light.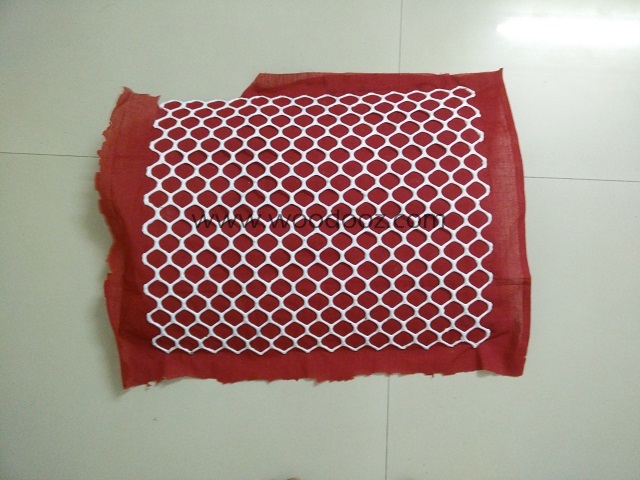 Step 4
Once dried, stick the tracing sheet on top of the fabric using glue. If you find that time consuming, you can just staple the sheet on top of the fabric. This sheet is required to mask the glow of the bulb. Cut the fabric and the tracing sheet along the edge of the mesh to align with the design of the mesh.
Step 5
Roll the mesh along with the fabric and tracing sheet, stitch both the corner sides together to form a cylinder. That's about it. Your own DIY garden mesh honey comb lampshade is ready.
 The rest of it is just cake walk. Hang the lampshade where you want to display it. Hang a bulb through the top of the shade and let it do the magic.
 The garden mesh is also used to cover the balcony rails and staircase railings as a means to child proof the home. However, if you think beyond these established uses, you can see and make a pen stand, or a tea light holder, or even a nice little stand for hanging your collection of ear rings.  And my suggestion for today – Go DIY this lampshade

Disclaimer : This post is reproduced from my article published in Hindu Metroplus Melange on the 28th of Nov, 2015